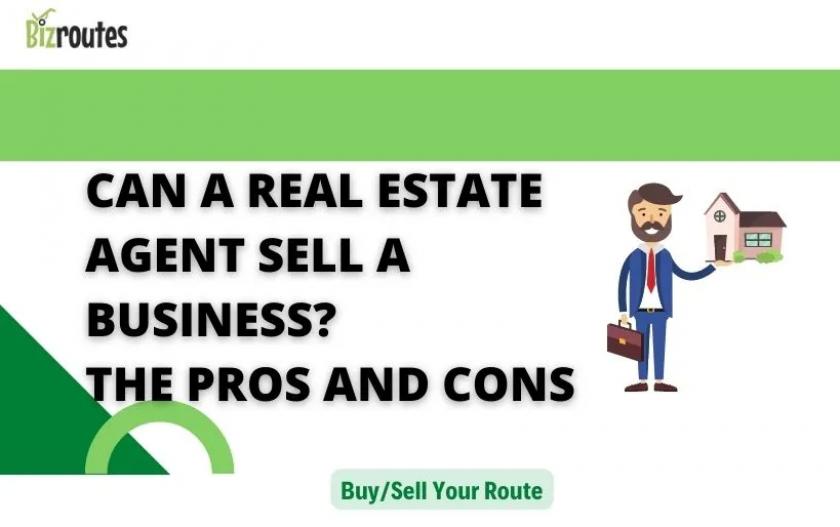 Here's what you need to know before you sell your business with a real estate agent
Are you considering selling your business? You may think that the process is too complicated and time-consuming to go through on your own, but did you know that a real estate agent can help you sell your business? Believe it or not, agents have the knowledge and experience necessary to make the process run smoothly. But how does a real estate agent compare to a business broker and why to even consider a real estate agent?
Do real estate agents sell businesses?
There are a lot of discussions these days about the business brokerage market. Many people seem to think that it is a great time to sell a business. But is this true? And, more importantly, can a real estate agent sell a business? The answer to both of these questions is yes. Keep reading to learn more about why now might be the perfect time to sell your business and can a real estate agent can help you sell a business.
Even tho real estate are experts in selling homes they do have a large network and access to MLS where they can add your business and it will run through a lot of brokers
Hiring a real estate agent to sell your business:
Well, the answer is Yes, real estate agents can sell businesses, but let us dive deeper and see why should you hire a real estate agent. Here are some advantages of hiring a real estate agent to sell your business.
MLS- as known as multiple listing services. Millions of people use the MLS to search for houses. But what is MLS? It's short for Multiple Listing Service, and it's a comprehensive database of homes for sale, rent, or lease and even list businesses. The MLS contains information on properties from brokers all over the country.

Networking-real estate agents network with other firms and have access to larger databases like a large email list, they can easily send a campaign to hundreds of thousands of investors

Website listings - real estate agents have accounts with big platforms like Zillow, realtor, and also platforms such as bizroutes which they use for businesses they decide to list.
2. The process of selling a business is not as similar to the process of selling a home
Selling a home requires less work than a business, with a business you need to find the right buyer example you are selling a mobile welding business, not anyone can just make an offer and buy it what will they do after the sale when they never welding a day in there life! But a house with some staging and offering it the right price is easier to sell
"So the question should be does a real estate agent know how to sell my business rather than can a real estate agent sell a business"
3. Cons of hiring a real estate agent
So the question should be doing a real estate agent know how to sell her business rather than can a real estate agent sell a business, real estate agents typically deal with homes in the range of two hundred thousand and up, so will the agent focus on selling your businesses? They most likely will if they take your listing here are some helpful and important questions to prep for when interviewing and hiring a realtor to sell your business:
1. Where will you market my business
2. How many businesses have you sold?
3. What types of businesses have you sold?
4. What is the broker fee and who will it be on?
5. Will you have buyers sign an NDA?
4. The agent will need to market the business to potential buyers.
The goal when choosing an agent to represent your business is simple!...show me the clients !! who are they marketing your business to, are the buyers looking for a different type of business than yours, and are they, ready buyers? Will they show proof of funds are they even real buyers…well those answers will be determined in your interviews.
5. There are many resources available to help agents sell businesses
In this day and age selling anything became much easier you can now sell from a single ad, so can a real estate agent sell a business, I think yes with the help of websites and market places selling is easier than ever but that should be your last concern, making sure agent understands your terms is what matters and hiring a lawyer to help see the deal is a must.
6. Conclusion - Selling is frustrating
Selling a business can be a complex process, but with the right agent it can be successful, once you have found a real estate agent to sell your business you can try a 30-day agreement within that 30-day agreement if you see the agent is giving it their all and you are getting buyers in the door, then it might be good to give them a shot and if not you can always cancel and try a business broker that handles your types of businesses, overall selling a business is stressful and may take some time and effort but you as the seller need to keep focusing on growing your business as it not even for sale, getting distracted by thinking your business will sell and you are off to retirement will only lower your sales! That will cause your business to slowly go downhill the goal is to exit with a profit remember that!