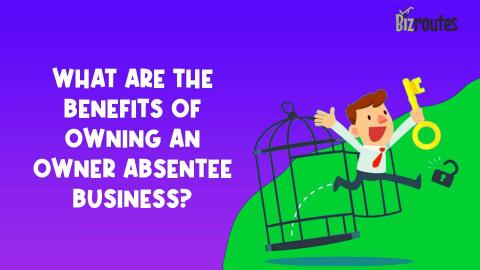 What are the benefits of owning an owner absentee business?
---

is there a such thing as an owner absentee business?
---
Are you planning to start an owner absentee business? Before you do, or in the planning process, it is important to understand what this type of business will give you. Generally speaking, the difference between owning an owner absentee business and a regular one, is that the former person doesn't manage it by being there all day long. An owner absentee business is a business that is completely operated and managed by an owner who doesn't handle any day-to-day operations but instead spends time on bigger-picture, issues like strategic planning, marketing, and doing the things that will make their business more successful.
---
Here are some reasons to consider owning an owner absentee business:
You own an existing business and you want to grow your annually net income

You have a secure job with great benefits and a great salary and you still want to own a business so you can pass it one day to your kids

Your current job pays good but has no retirement plan

You are retired and looking to own a business without having to work in it full time

You want to buy it, build it, and flip it for a profit
---
Tips and advice on running a business as an absentee owner
You found a business, it seems great, the financials add up, and you are calculating how much more money you will start making in your head while you don't have to lift a finger as sweet as that sounds… I am here to tell you if you don't have a plan to successfully run an owner absentee business then your dreams of becoming an owner of a conglomerate organization may fall short QUICKER than you think, let's talk about how to go about running your business(es) the smart way. This section is a 5 step process I use and it works great for me.
5-step guide to running multiple businesses
Step 1: Understanding the industry
There is a lot of stuff you should assume when buying a business, sometimes it might be smarter to understand the industry you want to get into before you invest in it, I founded a recycling business way back ago, and I got an offer from a friend to put up the money and go half as he will run the operation, he knew 100% of the business while I only knew the basics, long story short as much as the profit was great and business was booming he had gotten an offer to move out the state for a better opportunity and gave me no time to come up a plan I had to scramble find someone to hold my current position where I was working and work on the recycling business I had no clue what I was doing, it took me 2 months to get a hold of things, moral of step 1 does your homework fully, run the business yourself first before you rely on others, this way even if you have a situation hiring someone else and training them to follow your footsteps will be less hectic for you.
Step 2: Starting and ending meetings:
When I say reports this doesn't mean a 20-page document, this can be even a text message or phone call, or even an email, but to let your employees know even tho I am not around I am still here with you. When your employees see good leadership they are more encouraged to perform better as this is also their bread and butter trust me a lot of employees do not want to see your company fail, if the company's performance slows down then their jobs are on the line. Here are some examples of what should be in a meeting…
Starting shift meetings:
The daily route picks up or drops
Information on new customers
Follow up on any customers from the prior day
Employee's concerns or questions they may have
Taking advice from employees
Ending shift meetings
Daily route completion sheets:
Reports on any issues, returns, or unhappy customers
Reporting any issues with trucks, software, or tickets.
Checking with employees if they had any issues at work
Step 3: project management software
Running an owner absentee business requires you to think of ways to maximize your time, imagine owning 5 owner absentee businesses you first might think I would love to but how? You can do it! It will all come down to what tools you use to communicate with vendors, employees, etc. here are some tools to check out…
This is a great tool to assign tasks to employees, when they start their day they can see what they have to do and when they finish they can upload their worksheet right to their task and mark it complete you will be notified right away.
If you are buying a route that is for waste management, delivery, and even a service-based business then breeze work is great, it's affordable and routes can be scheduled daily weekly, and even monthly.
Zoho is a famous one used by over 3 million their software is great for any business, construction, landscaping website development, and more, you can use this to run multiple businesses.
Linxup is a GPS truck device that tracks your trucks, cargo vans, and any size vehicle you have on your fleet, it is a great tool to place on your vehicles you can see when employees come in and what time they finish, this will help assure your business is running.
---
5 owner absentee businesses Ideas

Now the goal of owning an owner absentee business is to try to find businesses with less amount of work and management needed so here are my 6 best owner absentee businesses to acquire…
1. Vending machines:
Vending machines are one of the most popular owner absentee businesses. They are easy to set up, require less maintenance and offer a high-profit margin.
Vending machines are an excellent source of passive income, meaning you often don't have to work in them to make money. Most vending machines can be placed in locations that are not open 24 hours a day, so you don't have to worry about being there all the time. The best thing about owning a vending machine is that it provides you with a consistent income stream that doesn't need much attention. You simply place your machine in an area where people will use it and collect payment from sales every week or month.
This owner absentee business will only require the following from you or a manager…
Constantly on the hunt for more vending machine locations

Making sure vending machines are always fully stocked

Fixing any issues on any vending machines that may have issues
2. FedEx routes:
FedEx is a company that has revolutionized the shipping industry. They have made it possible for businesses to send items to their customers without having to worry about them being delayed or damaged. FedEx routes for sale offer many different services and products, but they are all designed to make shipping easier and more efficient.
Buying a FedEx route business is the ideal business for an owner absentee business, you hire the right employees and send them the daily routes. This type of business also allows you to set your hours so that you can spend time with family members or friends without having to worry about missing out on work hours because your employees will pick up where you left off at any given time during the day or night depending on what needs doing at that particular moment in time.
This owner absentee business will only require the following from you or a manager…
Getting the daily delivery routes

Setting up daily routes for drivers

Making sure drivers on your schedule

Tracking vehicles

Collecting payments
3. Bread routes:
Bread routes are one of the most common owner absentee businesses. They are a great way to generate passive income, and they don't require much capital investment from you.
Here are some of the benefits of owning a bread route business
Passive income –The business concept is simple, let's say you are buying an established bread route, the route came with 75 customers, these bread customers are split up between 2 drivers in a box truck, and you can take the customer's orders over the phone daily, send the orders to the bread bakery and then send the route list over to the drivers if you can manage that part you can save your self extra money by not having to hire a person to take the daily orders.
Low risk – Bread routes have very low risk because you only need to invest in the vehicles and if customers require a bread shelf, Unlike other owner absentee businesses, you also don't have to worry about employee turnover or customer complaints since you're not directly involved in the day-to-day operations of your business.
This owner's absentee business will require the following work…
Taking daily bread order

Sending orders to bakers

Sending routes to drivers

Collecting balances from customers once a week
4. Beverage distribution business
When you think of distributing beverages you may think sheesh I need a huge warehouse to store the beverages, a forklift driver and many employees let me not even think about investing in this business model, well you are mistaken, its one of the simplest businesses to own as an owner absentee owner, You can run this business from anywhere in the country as long as you have an internet connection.
Let me break it down a little on how beverage distribution work, you have 2 options one is yes to own a warehouse and buy large quantities of beverages, basically by the trailer that will require your full attention, but that's not what you want right? You want to make money without the hassle of actually owning one, which leads me to the second way to own a beverage distribution business…
You can spark up a deal with a severe wholesaler who has the warehouse and tell them you have a set amount of customers that will commit to buying bevers from you and you will like to buy your beverages from the wholesaler directly, the wholesaler might charge a bit extra but you will still make a profit.
This owner absentee business will only require the following from you or a manager …
Taking customer orders

Sending customer orders to beverage wholesaler

Prepapring route sheets

finances ( payroll, paying vendors, etc.)
5. Transportation businesses:
The transportation business is always a good choice for an owner absentee business. Transportation businesses are good for any entrepreneur regardless of their experience or background. Transportation businesses also have many benefits including:
Low startup costs - Most transportation businesses do not require much in the way of equipment, so there are no expensive tools or machinery required before you get started. You do not need a lot of space either, so transportation businesses can run out of your home or garage if necessary, if you considering cargo vans but even if you want to go bigger with tractor trailers you can always pay for parking lots that take them
One team operation - Most transportation services only require one person to operate them, so they do not require many employees, this means your payroll will be easy to manage.
Flexibility - A transportation service can be operated 24 hours per day, 7 days per week, which means that there is plenty of flexibility in terms of when you want to work and how much time you want to spend managing it each day. This also means that it would be possible for someone who works full-time at another job to still run a successful transportation service.
Expansion - A transportation business can easily be expanded, once you can manage one vehicle you can start adding more vehicles to your fleet.
This owner absentee business will only require the following from you or a manager …
Setting up routes

Maintaining trucks or vehicles

Payroll
---
Pros and cons of owning an owner absentee business
If you are thinking about buying an owner absentee business, there are several factors to consider, But first here are the important ones you need to start with for yourself.
Finding a niche that you are passionate about, even tho you are buying the business as an owner absentee business, you still want to be able to participate in it, for example adding your knowledge and feedback, most people buy a business just for the fact that the numbers look good and don't have a clue about the business, so it is very crucial to have some type of industry before you get in it.
Having extra money after you acquire the business, if you are buying a business for x amount of dollars make sure to have some extra funds for emergencies and upgrades, imagine this scenario you purchase a delivery route business and it has one truck you cash out your savings and that same week the transmission blows, now what? So it is always good to keep at least 25% of how much you are paying for the route business if the business is 100 thousand you should have at least 15-25 thousand in credit cards or cash until the business cash flow makes enough money to have its savings.
Do you have someone you can trust to operate the business? If you find a route for sale or any business that you are comfortable with buying, you should consider running it yourself for the first 3-6 months and then take that knowledge you gain to hire someone to run it the same way as you did, this will help you manage the business better, buying a business and just handing it over with blinds eyes most likely that is a recipe for disaster.
---
Pros of owning an owner absentee business
When you purchase an owner absentee business, you'll be buying a business that is already established. The business has been around for a while and is making money. You'll also be buying profitable ones and operating as they should. Because of this, the business already has an existing customer base, which means your job will be easier to start filling orders because people know who your company is.
Additionally, because the owner absentee businesses are successful in their own right which means it makes the owner absentee business always successful. Starting an owner absentee business for sale offers many benefits. You can make a lot of money, have more free time and spend more time with family, have a better work/life balance, be more productive in your spare time, and have more control over your finances. Here is a breakdown of the pros
Passive income

Stress-free income

Growing your assets

Mastering your first owner absentee business will open doors for businesses to acquire and micro-manage

Ability to hire friends and family

Retiring

Manage business from anywhere
---
Cons of owning an owner absentee business
Things to watch out for when buying or starting an owner absentee business.
While there are many benefits to starting an owner absentee business for sale, it's important to be aware of the potential red flags or drawbacks as well.
The initial investment can be high.

You may buy an owner absentee business that has poor cash flow.

The business might not be a good fit for your skills or personality, which could lead to stress and unhappiness in the workplace.

There could be legal issues with the company that you didn't know about before buying it (for example, lawsuits from customers over bad service).

Employee turnover is often higher at owner absentee businesses than at other companies, which can make employee training more difficult and increase costs for hiring new employees. This can hurt profits when it comes time for profit-sharing distributions among the members of the business.

Seasonal business, which means it may be great in the summer but dead in the winter

Buying a business that may seem like an owner absentee but it isn't

Employees not showing up on time or at all.
---
More stuff to consider when buying an owner absentee business for sale
If you want to make the most of your time and have a successful owner absentee business for sale, here are some more tips:
Know how to manage your time. It's important that you have a plan for each day and that you stick to it. You don't want to be caught off-guard when something happens in your life or business that requires your attention.

Have the right team in place. You need people who can handle things while maintaining high-quality standards and customer satisfaction. For example, if someone calls with an issue on their end, they should be able to quickly resolve it without having to go through several meetings before getting answers or help from someone else (like their boss).

Be disciplined enough not only as an individual but also as part of a team working together within certain constraints such as budget restrictions.
---
Conclusion:
Starting or buying an owner absentee business for sale takes drive and dedication. If you're considering getting into this business, it is important to consider whether or not you have the drive and dedication required to succeed. Many people indeed start businesses thinking it will be easy and they can work from home, but the reality is that running a business requires hard work and there is no such thing as an owner absentee business! It's like having 4 kids and one is adopted, you must love them all the same, you must focus, listen, speak and be there for all of them, there are no short cuts if you want to succeed as an entrepreneur you have to always give it a 100 %, the true definition of an owner absentee business is to not have to work physically but you have to work mentally and emotionally.
Lets recap
The first step is to find an owner absentee business that you are passionate about, an industry you know about and want to be in, don't just be happy with the numbers.
Next, check in with your staff every once in a while but let them do their jobs. You don't want employees who are anxious or nervous because they feel like they're being watched by their boss all the time; this will only hurt productivity and morale at work which would defeat the purpose of hiring an employee in the first place.
Third, have the right tools in place to limit the time needed to run your owner absentee businesses
And fourth hire a manager. This should be someone who has experience managing other companies and can do so without your supervision. In addition, make sure they have experience in the industry that you're operating within as well as strong leadership skills.
To the best of our knowledge, the information provided on this website is not intended to be taken as professional financial advice. Consult a professional financial or tax expert if you require this advice.